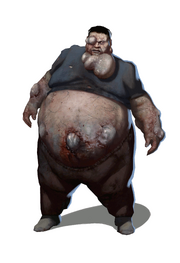 "IT'S THAT PUKIN' DUDE!"
— Keith
The Boomer is a special infected type who makes and appearance in the Zombie Apocalypse.

41px|left- Boomer sounds
General Info
Edit
The Boomer appears as an oversized man with pus pockets covering his hands, arms, head and body. Like most special infected, his attacks consist of sneaking up on the survivors, puking on them (attracting a horde of Common Infected) and running away. Upon death, he explodes, showering bile on any survivors nearby.
Extent of Mutations
Edit
The doctor has reasoned that most Boomers tend to have been the average American - fat, lazy and full of fatty acids and other signatures of an unhealthy lifestyle. This in turn caused a mutation that formed a Boomer.