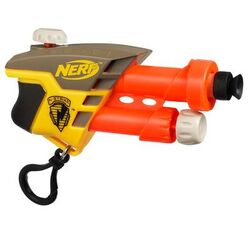 The Secret-Strike AS-1 is a small weapon developed by Alvonian Weapons Systems for Task Force 589.
Design and Development
Edit
The Secret-Strike was created primarily to provide Task Force 589 with a compact pistol. After going through several designs, the Secret-Strike AS-1 was created, and was used in Operation Takedown by Ace, where it proved a fair success.
Mechanism and Users
Edit
The Secret-Strike AS-1 is a tiny pistol that is connected to a keychain for carrying purposes. It only carries one round so accuracy is the main factor of this weapon. It is used by Ace in Operation Takedown.