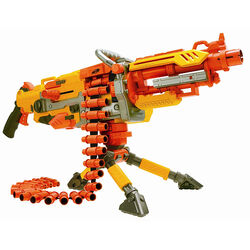 The Vulcan EBF-25 is a weapon created by Alvonian Weapons Systems and is a general-purpose, belt-fed machine gun.
Design and Development
Edit
The Vulcan was created primarily to provide Task Force 589 with a weapon that could be used for suppresive fire and used both stationary and mobile. After going through several designs, the Vulcan EBF-25 was created, and tested on Operation Cold Shoulder, where it proved a huge success.
Mechanism and Users
Edit
Using a closed-bolt design, the EBF-25 cycles each belt link, firing approximately 20 rounds per minute. It is used by Boss and was used extensively by Chainer.